Contact Info
Jim Cunningham Counseling
Jim Cunningham
430 Beacon Lite Rd
Ste 125
Monument, CO 80132
Phone: (719) 238-5187
Email:
jim@jimcunninghamcounseling.com
Website:
www.jimcunninghamcounseling.com
Photo Tour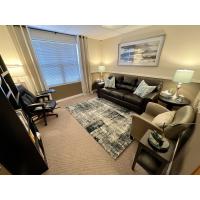 Hours of Operation
By appointment
About Us
I accept TriCare, Cigna, and Blue Cross Blue Shield/Anthem.

My goal is to give you fresh perspectives, practical insights and tools in a calm, relaxed environment. Together we will explore the challenges, find solutions, and discover ways to conquer the obstacles. As a result, you will find you have more choices, awareness and control of your feelings, reactions and behaviors.
I use Eye Movement Desensitization and Reprocessing (EMDR), Internal Family Systems (IFS), and Cognitive Behavioral (CBT) therapies to treat trauma, anxiety, depression, insecurity, failed relationships and other associated symptoms.
I have experience helping adolescents, adults and military members find more peace, meaning and joy in their lives. I look forward to helping you do the same.
The Process of Counseling. Counseling can result in many benefits to you, including improving interpersonal relationships and resolution of the specific concerns that led you to seek help. As a collaborative process, counseling requires your active efforts, honesty, and openness to achieve desired changes. Change will sometimes be easy and swift; other times it will be slow and even frustrating. There is no guarantee that therapy will yield the intended results.
What is EMDR?
Eye Movement Desensitization and Reprocessing (EMDR) therapy is an integrative psychotherapy approach that has been extensively researched and proven effective for the treatment of trauma. EMDR is a set of standardized protocols that incorporates elements from many different treatment approaches.

While scientific research has established EMDR as effective for post traumatic stress, EMDR can also be successful in treatment of the following conditions:
Panic attacks
Phobias
Pain disorders
Performance anxiety
Addictions
Stress reduction
Sexual and physical abuse
Body dysmorphic disorders
Personality disorders
Disturbing memories