Contact Info
Essential Oil Works
Deana Williams
PO Box 7155
Colorado Springs, CO 80933
Phone: (719) 459-7598
Email:
Info@EssentialOilWorks.com
Website:
EssentialOilWorks.com
Photo Tour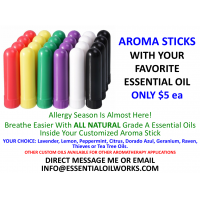 Services
Situational Evaluation/Goals
Bio Scan Report
Oil Encounter
Evaluation & Support
Ongoing Education & Lifestyle
Hours of Operation
Everyday but Sunday.
About Us
Essential Oil Works - Because It Does!
:::We specialize in sharing information about the highest quality natural resources that support longevity. Plant essential oils are THE highest anti-oxidants available, working on a cellular level.
:::Oxidation causes aging. Inflammation from oxidation causes illnesses. Let's get at the root cause, not just slap a pill at your symptoms that'll cause side- effects and jeopardize your health.
:::We use FDA approved bio scans that measure galvanic energy, indicating what systems of the body are in and out of coherence/balance. Then nutritional, environmental, and physical modalities are used to rid your body of what's disturbing it, while building and supporting your foundation of wellness.
It's not as expensive as it sounds!
$20 per scan.
Oils and supplements separate.
Is SLEEP an issue? MUSCLES tired? Looking for EMOTIONAL or BEHAVIORAL support? YOUR HEALTH of mind, your body, and your spirit are essential, and we want you to be a vibrant force!
Call or Text us for YOUR bio scan and report.
719-459-7598